Please note, this is only a narrow slice of the amazing presentations across the event. Further coverage can be found in upcoming articles.
---
Attempting to compress the full two days of the Impact Summit 2023 into one article is a very tough job, but it's also one of my favourite tasks of the year.
It's an opportunity to relive two days of inspiration and energy, to reflect on the sector's progress, and to commit wisdom and deep insights to paper, so they can be shared and turned into action!
For me, the energy and spirit of the space comes from the willingness to operate in the grey zone – to push against the status-quo, and find solutions to fill the gaps.
While there's volatility in global markets, we're seeing strong allocations to climate-tech.
Impact investing is being mentioned by the Treasurer, but it's also receiving a drubbing of misinformation in the finance papers.
And when we FINALLY have a global investment cohort focussing on the need to factor biodiversity and 'nature' into risk assessments, we're also seeing deep divisions about the efficacy and legitimacy of carbon offset certifiers.
Progress is certainly not linear, and we're far from agreement on how best to solve some of the world's most wicked problems, but no-one ever said change would be easy.
Day One – A Morning to Inspire
Ask Good Questions
The MC for the event, Lil Kline, opened with warmth and energy, and with fierce staying power she maintained it throughout the event.
She conceded the event was bigger this year than ever, and her attempts to condense the program had failed, there were just too many change-makers to squeeze in!
"Ask good questions", she said. This was a comment that resonated with me; asking thoughtful questions is far more important than having the right answers.
"Maintain a spirit of action, and community" she said, "Meet and share". This is afterall the reason for all of us coming together.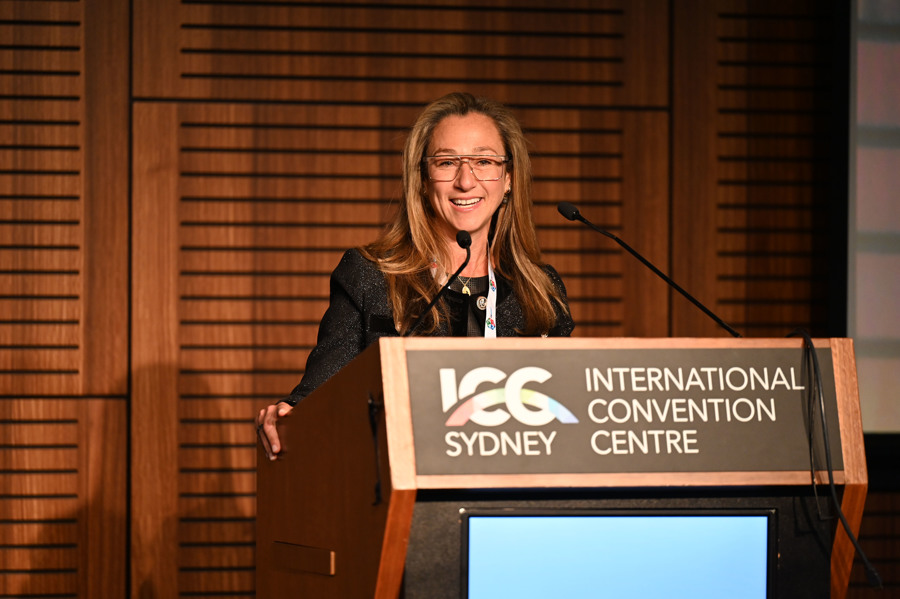 The Power of Dance in the Morning
An Acknowledgement of Country is a vital component of opening an event, but that's as much because of its cultural significance, as it is the colour and energy it brings to the room.
Nartarsha Bamblett filled the room with her smile, but also with her voice, and her dance.
"Leave the land better than you found it." she said.
"We are the oldest living culture, we have ancient wisdom in every cell of dna. We must recognise that wisdom."
"What is the impact you're having – that affects the next generation?"

The moral here is that we need A LOT more interpretive dance at finance conferences.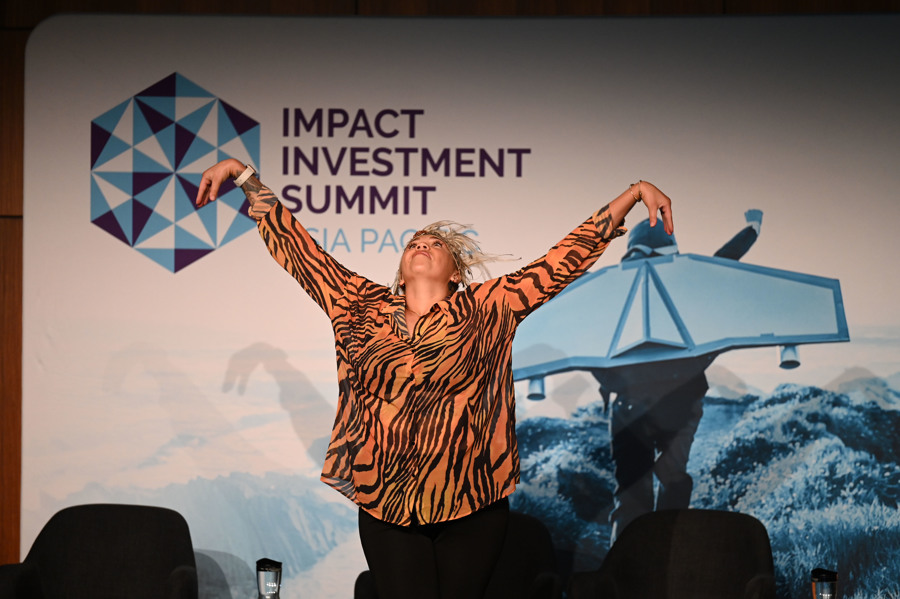 State of Impact
Who better to help us explore the current state of impact investing than Louis Walsh, Susheela Peres da Costa and Katherine Palmer from NSW Treasury.
Katherine represented the role the NSW Government had played in developing social impact pathways. Mentioning the Newpin bond, which was Australia's first social impact bond. She went on to explain the capability work that continues, a role for the government in building capacity through defining a common language, and now shying away from the most complex social issues.
"It's not failure," she said. "It's testing and learning. You need to measure, you need to define a plan."
Susheela was quick to add; "In doing something new and courageous, there is no failure except the failure to learn. The discipline is monitoring along the way."
This would become a mantra for the remainder of the week. Failure is simply another step on the path to success.
And of course, they were all painfully eloquent, setting a high standard for the speakers to come.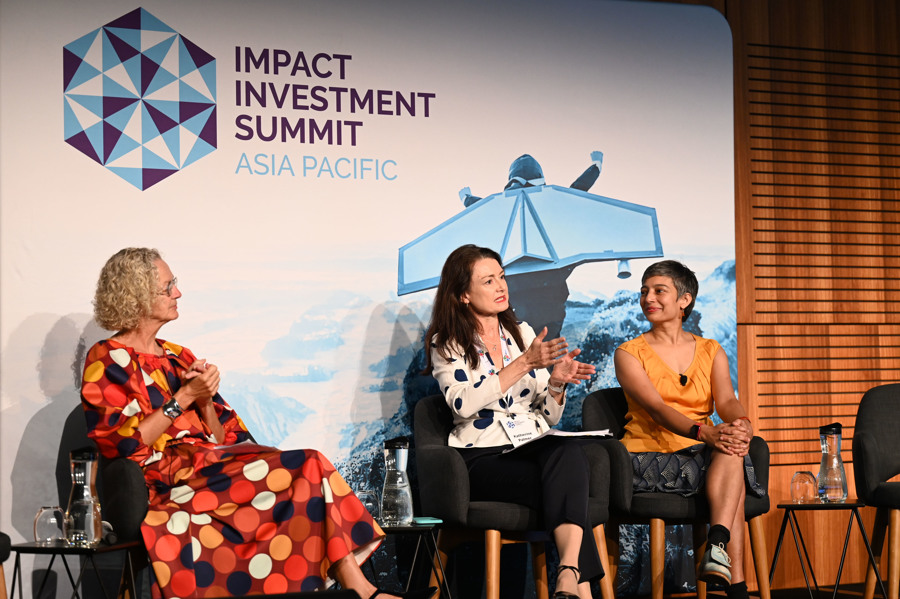 A Teaser: The Social Impact Taskforce Final Report
It was an update, and it teased our eagerness for progress, but sadly this event didn't see the release of the long awaited final report from the Social Impact Taskforce.
Amanda Miller was Deputy Chair of the taskforce, and she offered an update on progress in engaging with the new federal government on the report, conceding the slow pace was frustrating, she did raise some hopes that the budget may deliver a resolution.
"We had a meeting with the Treasurer, about an updated version of the report. He was really engaged, and has spoken publicly about some of the key issues. But, there's still an underlying message that they're operating in a constrained political environment."
She was in conversation with David Hetherington who is the new CEO of Impact Investing Australia. It's an important organisation, sitting between the public and private sector, with the potential to speak as the voice of the sector.
"IIA has been advocating for a very clear architecture for what the government should adopt. Some form of matched funding between institutional investors and government, focussed on accelerating entrepreneurial growth and that of the broader system. It would develop infrastructure in government, progress payment for outcomes models, and the general know-how in the public service to consider expenditure decisions through an investment lens." David said.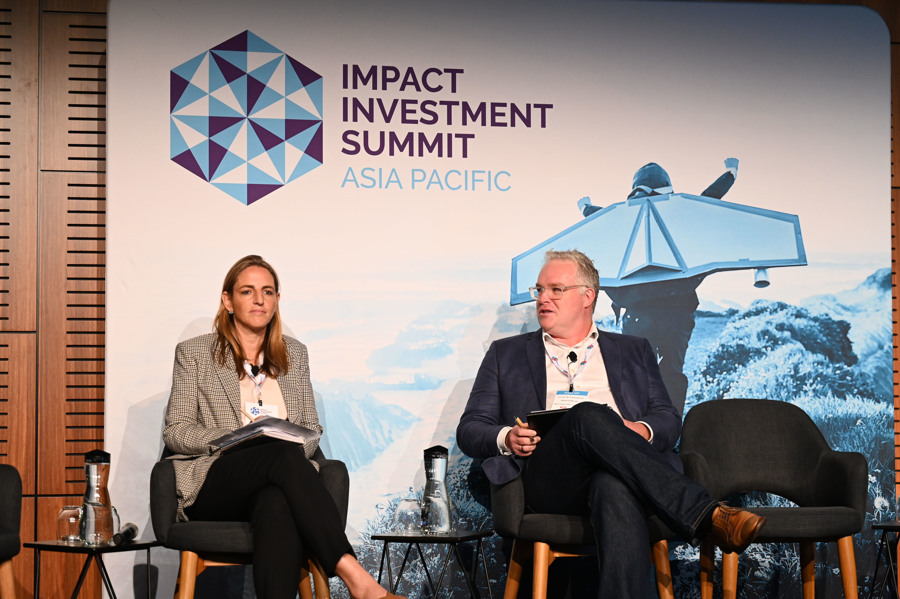 Investing in Nature
"Natural capital acts as the world's balance sheet."
Taking action to slow climate change is vital, but it's just one issue facing our fragile world. There is a growing recognition of the need to reduce biodiversity loss, as well as managing risks associated with 'natural capital'.
Mary Delahunty led a panel of some of Australia's leading experts, and practitioners.
Nigel Sharp from Tiverton, Izzy Jensen from Kakariki, and Toby Grogan from Impact Ag Partners.
"60% of people think nature is fine, and that's dangerous. The daily decline is hard to see, and it means that bit by bit we're losing valuable natural resources. Language is important here, to help people understand what we're talking about." Nigel says.
Izzy Jensen introduced Kakariki, "Our focus at Kakariki is on connecting investment capital with nature based issues. To maximise impact, we're focussed on emerging markets. There's more opportunities than in developed countries, overseas is where the capital is most required."
"The state of carbon markets is nascent. We need to look at how they're being used, and avoid using them to maintain the status quo. The key is that a price on carbon will drive R&D into new technologies. It's pricing negative externalities." she said.
The impact mantra has long been that 'what gets measured gets managed'. And so it goes for nature. It is suggested that if we can put an economic price on it, then we will better care for it. Or at least, if we can understand the risks of damage, we may care a little more.
Regenerative agriculture goes further, it recognises the risks facing natural assets, and it reimagines the farming process to work with nature, rather than against it.
"We manage farms on behalf of investors, we manage them sustainably. It makes sense because it has better outcomes than traditional agriculture. On top of crop yields and resilience in times of extreme weather, there's also carbon sequestering opportunities." says Toby Grogan from Impact Ag Partners.
"But at the moment, the best land stewards only earn the same prices for produce as everyone else. We need to change that, so that people start to recognise the costs to nature."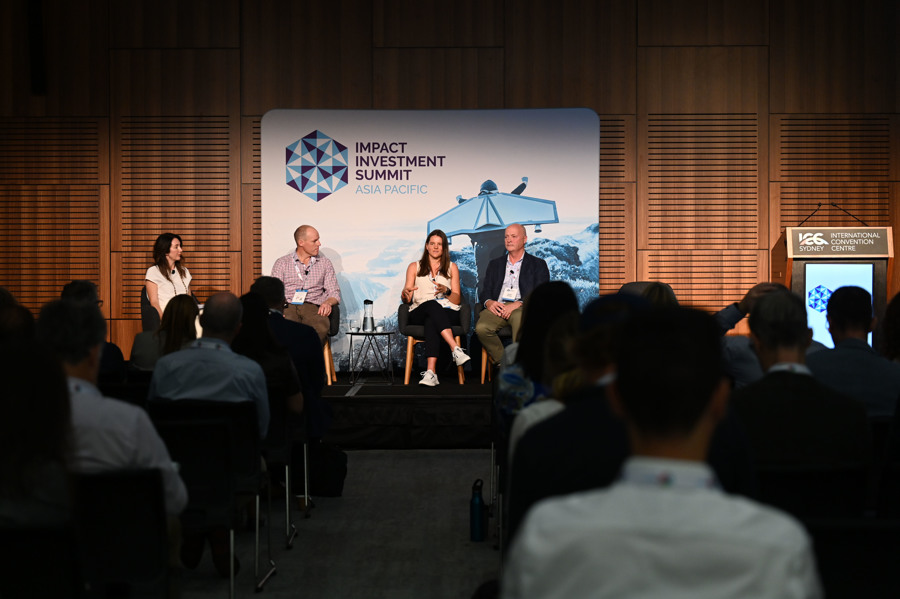 ESG Is Not impact! But who gets to decide?
While impact investing can be thought of as a 'provocation' toward mainstream finance as a whole, there is a tendency to drift back towards the status quo. Systems change is never easy.
To hold one another accountable, it's useful for peers to apply a little provocation. And that was the intention of this session.
Who gets to decide what is defined as impact?
Dr Stuart Palmer, Head of Ethics Research at Australian Ethical, had the difficult task of wrangling this tenacious group of impact advocates.
Brynn O'Brien from ACCR
Rachel Etherington from LGT Crestone
Lucy Steed from Melior
Kerry Series from Northstar Impact
"If you are divesting from fossil fuel companies, then you are not engaging for change, and you are leaving impact on the table." says Brynn O'Brien, arguing that active engagement with high emitting companies is a key lever for change.

"Divesting simply hand-balls the problem on to someone else, and someone likely far less interested in decarbonisation." she says.
Rachel Etherington says, "There's no clients who want unsustainable returns, no-one wants a crumbling economy. We need a sustainable, flourishing environment. So a focus on strict definitions can be unhelpful, trying to get every impact fund to fit GIIN's strict definition."
"We must ensure we're not navel gazing, and arguing among ourselves, while the world burns. There's plenty of climate tech startups doing great work, but many aren't measuring their impact to the strict impact standards." Rachel says.
"At Melior we focus on being really intentional." says Lucy Steed.
"We're really focussed on investing in public companies, to drive impact. They already have scale, which means they can scale some game changing technologies."
"All our companies have to contribute to at least one of the SDG indicators. And we're increasingly focused on our gender lens and social issues. For example, most ASX200 companies don't have targets for the gender pay gap."
Kerry explained that he is pioneering impact investing in public markets, because he is frustrated by the greyness of much ESG investing.
"ESG was coined by the CFA. They put a label on something that was always being done, which is essentially risk management. But once funds managers recognised that mum and dad investors were looking for a way to align their values with their investments, they jumped on it. The easy solution for the investment management industry was to put an ESG label on existing funds without having to make many changes to their process." Kerry says.
"As Tariq Fancy says, in many cases, it's not positive or neutral, it's probably negative, because it means that a share of trillions of dollars of investment don't go to real solutions to our social and environmental challenges."
"At NorthStar, we invest in impact companies that provide those solutions. I remain skeptical of many investors' claims of their level of influence over large, incumbent companies. I want to invest in companies that are generating measurable positive change from their core business activities."
Creative Solutions for Driving Impact
Family offices have a unique opportunity to allocate capital to impact, by definition they're at the helm. In many instances, it's been family offices that have pioneered some of the foundational impact deals and projects.
This session brought together some of the 'younger' members of leading impact-focussed family offices to talk about they're own journeys.
Ingrid Albert – Alberts
Fergus McKenna – Barlow Impact Group
Adam Milgrom – Tripple
Andy Davika
What do you wish you knew ten years ago?
Andy
"I wish I knew that impact would sustain my interest for a decade, so I could slow down. We tried to throw every option at the wall, but it was exhausting. We've reflected on the fact that if we slow down, we can go deeper on some specific areas."
Emily
"For us it's an evolution, and most important is to maintain family unity. We need flexibility because inevitably things won't go as you hope, you need to be able to adapt."
Fergus
"You're not alone, this summit shows it. There are frameworks, and people and a network. You don't need to go out and do it all alone."
Adam
"How much work it will be! But maybe then I wouldn't start. We did ask ourselves, would we be able to do 100% impact portfolio? And it took a lot of time to explore and learn and experiment, but it's been worth it."
Who do you need to hire? What Capabilities?
Adam
"At first, no-one. We decided we wanted to do it all. The three of us made all the decisions, and all the mistakes. That was deliberate.
We wanted to first understand the roles they'd fill, we didn't want to listen to outsiders coming in as the experts. So we used small cheque sizes, and we made sure to read all the small print on legal documents.
Now, we're supported by an amazing team including Keshav Puri our investment associate, Sally Hill as General Manager, Tracey Martinovich as philanthropy lead, and Emily Gardiner who looks after all our Admin."
Fergus
"We met Danny Almagor, he kept us moving. And we also got some great insights and direction from Wolfang over in Europe."
Ingrid
"Kylie Charlton and Australian Impact Investment has been central. Plus lots of external assistance to form the investment committee. And to manage family decision-making, we also use outside consultants to help us move through it.
Andy
"We also lean on Kylie Charlton, she's a great resource. We have a property manager from the legacy business, we've been working to bring them along on the journey, but it's really a completely new approach, so it takes time."