The social enterprise movement really came into its own in Brisbane last week at the Social Enterprise World Forum 2022, the largest gathering of purpose-driven local and international changemakers.
I couldn't miss the opportunity to attend with Brisbane having won the bid to host the event several years ago. My tickets were booked last year, and the global event on the lands of the Turrbal and Jageradid not disappoint.
There were so many highlights, some of which I'll try to bring to life here.
In sum, I wish everyone in Australia could have experienced SEWF. The few days of Forum and fringe events felt like an elixir, the balm we all need right now.
The purpose we need to curb the great resignation.
The cure for jobs vacancies.
The spirit we need to lift us out of a malaise that our extractive systems have created.
Medicine for the mental health crisis.
The biggest take out for me was that social enterprise is not easy. It's hard work, but the stories of hope, resilience, community, connection and the power of supporting the right ideas at the right time, activate an unrivalled hope and a collective energy that's critical if we're to future make and shape with people and planet at the heart.
Welcome to Country
The opening session featured a Welcome to Country and performance by the Nunukul Aboriginal Dance Company followed by a fireside between two remarkable First Nations women, Lateesha Jeffrey from Wave of Change Consultancy, who was co-MC for the Forum, and Laura Thompson, founder at Clothing The Gaps fashion, an activist label.
The program was so well curated, with truly meaningful inclusion, representation and diversity, it struck me over and over listening to speakers that Indigenous culture is embedded with all of the hallmarks we've come to expect of good business and the wisdom of that culture together with First Nations business experience really shone through.
Several sessions sought to address the "elephant in the room" in terms of shifting power to redress structural and power imbalances to make room for Indigenous business, and a chill swept over the room in a breakout on philanthropic funding for social enterprise.
Karen Iles, Director & Principal Solicitor at Violet Co, raised the provocation from the audience to the panel of how philanthropy reconciles its self-congratulating for its good work, while at the same time, that good work is predicated on building wealth on stolen lands, leaving a legacy of loss and trauma.
Contrary to Karen's fear that her question would be akin to committing career-suicide, the panel, intelligently moderated by Karen Mahlab, acknowledged that we all need to do better, and we need to work together to right the wrongs. Observing as a white woman, this intention seemed authentic throughout the gathering, and I can only hope the intention continues to translate to action.
The social enterprise movement calls for bold thinking, bold action, innovation, design methods and systems that not only make space for, but embrace failure. Several social entrepreneurs on stage shared their blind spots, vulnerabilities, failures, but more importantly, the learnings from failure – a reminder to everyone that meaningful change won't happen as a result of incremental changes to the status quo and bold change can only happen when we allow people to experiment and get it wrong. Formulating the funding structures to enable that experimentation is critical.
Networking, Conversation and Community
The networking spaces outside of the session rooms were abuzz with social enterprises selling their wares, and Forum hosts, sponsors and partners in conversation and interviews. With around 1,500 people in attendance, there was not a chance of dull moments. Plenty of time for networking, both structured and in Unconference style, the program felt to have just the right mix of formality and space – and just as well with almost three years since the last significant in-persons gathering of global social enterprise, the thrill and delight of participants to commune again was palpable.
Day One's closing with a fireside chat between Rebecca Gorman and Australian of the Year, Dylan Alcott was most certainly a highlight. Dylan's candidness, his without fuss truth telling, his authenticity, and inimitable humour was such a breath of fresh air. Amid the startling injustices, for example, that the employment participation rate for Australians with a disability has not moved at all in 30 years, Dylan's optimism didn't falter, "I'm buoyant, I really am, all the time", he declared. This spirit of optimism actually infused the entire Forum over the few days.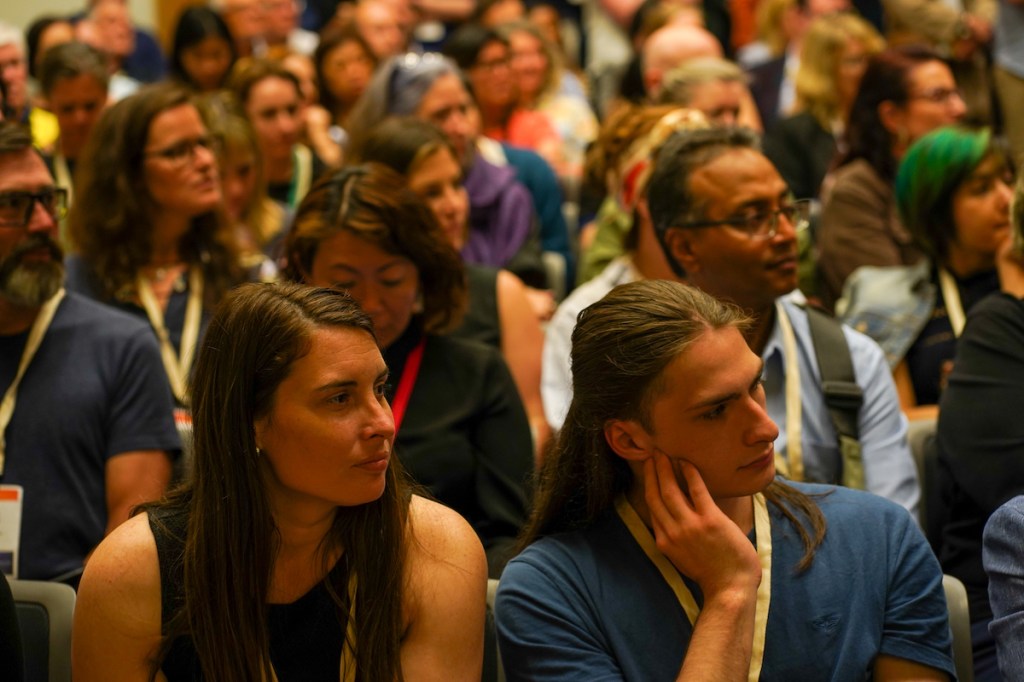 The Live Pitch
Wednesday evening's The Funding Network event was another highlight, as three extraordinary change makers pitched to an audience both in-person in the Auditorium, and online, the contagion of generosity swept through, raising an incredible $215,000. AMP Foundation matched up to $25,000 for each pitch, and to see the magic of big donors backed up by many smaller amounts in the crowd was a thrill. Meeting changemakers, whether through their story telling on stage, or sitting next to them having a drink at the pub in the evenings, never fails to inspire and reconnect to our shared humanity. I love the values many in the movement espouse, like Homie's "unconditional positive regard", and the deep intentionality through which decision-making is done.
Climate Action
Day Two opened in a way that brought me to ground again in a confronting way.
With the intensity of building an impact business that's human centred and people focused, the very real crisis of climate change had somewhat faded, not from my knowing, but from constant sight in the last few months.
India Miro Logan-Riley, young M_ori climate activist brought it back front and centre for me in her mainstage chat with Lateesha Jeffrey. Listening to India surfaced tears, anxiety, yet on the whole a deep faith and hope that if we can harness her intelligence, brilliance, action, activism, campaigning, and that of others, coupled with our own individual actions, we can indeed avert disasters. Her achievements are numerous and ought to be celebrated and shared far and wide.
Sarah Brown AM and Marlene Spencer, from Alice Spring-based social enterprise Purple House epitomised the ingenuity, boldness, dogged determination and equanimity many social entrepreneurs possess. And whilst I'm not sure I want to drink from the bottled pheromones of Jack Thompson, Sarah's way of storytelling and sharing, and the extraordinary change Purple House has led, including Medicare establishing an Item Number where there wasn't one for their services, was utterly inspiring.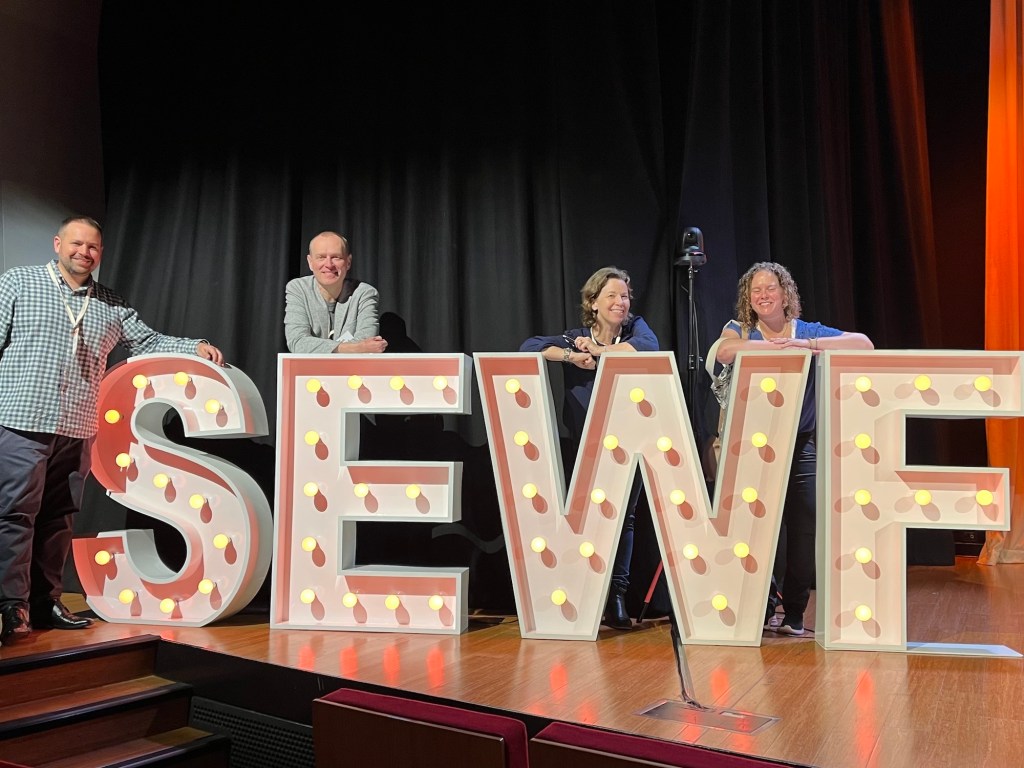 Energy, Power and Inspiration
The best thing about being away, out of daily routine, and gathering with like-mined and like-hearted folk, is the space it gives to lean into more beautiful questions about values, culture, leadership and what foundations we want to build the future on. SEWF 2022 delivered in spades, despite there always being room to improve.
The only thing missing for me was art. The song, poetry, moving image, painting, dance and expression that invites imagination, creation, a deeper moral enquiry and exploration. I might be alone in that longing, but it's a contribution that I feel is essential for our individual and collective evolution.
We still have much to learn, even about convening, and looking to the likes of Purple House's organisational chart is a fine place to start in terms of breaking norms, disrupting group think, diverging chasms of thinking, and working towards more inclusive, generative, and impactful ways of doing and being, including in the ways we convene.
SEWF 2022 was brilliant. I had the post-event blues returning to Sydney after so many wonderful connections and so much rich learning. Everyone who made it happen, Tom Allen, Belinda Morrissey, the team led by Luke Terry at Whitebox Enterprises, Westpac Foundation, social enterprise pioneers like Tom Dawkins, the hilarious and wonderful MCs, the curatorial team, and I'm sure hundreds of others including all of the volunteers, should be very proud.
See you in Amsterdam next year for SEWF 2023!
---
A market failure and a hard won idea sparked Mel Greblo to put her 20+ year career in social impact to work to start Scriibed and Banksia Academy. Mel is an artful change-maker, convenor and community builder. Her past roles include convening the Impact Investment Summit Asia Pacific, CEO of two social ventures and founder of global human development community, The Coterie.