It's well known that food production plays a large part in the climate and biodiversity crises.
A prominent source of the agriculture sector's CO2 emissions lies in the production and worldwide transport of protein-rich animal feed, including soy and fishmeal. 
The cultivation of soybeans — often utilised in livestock and pet food diets — necessitates extensive land clearing, frequently through deforestation.
Likewise, the production of fishmeal involves energy-intensive processing and further strains wild fish stocks.
The Minderoo Foundation's Strategic Impact Fund has just invested in FarmInsect, a Munich-based agritech start-up that offers a more sustainable alternative protein source for animal feed — namely black soldier fly larvae.
Such insects are a more sustainable and less CO2 intensive protein alternative, and provide circular use of local waste streams and minimise deforestation and overfishing related to traditional soy and fishmeal.
And while feeding insect larvae to animals might sound unusual, it's completely natural and in the spirit of the circular economy.
FarmInvest explains its mission: "Saving the world is an important goal, but it is too fuzzy. Too vague and also too big for a company. That is why we have formulated a goal that is just as ambitious, but is in our hands: in 10 years we want to completely replace soy and fishmeal in the EU."
Unique decentralised production
FarmInsect has developed an end-to-end, modularised solution for decentralised production of insects as sustainable animal feed. This allows for better utilisation of stranded energy and onsite feedstocks and puts this opportunity directly in the hands of farmers.
Its decentralised production model is in contrast to most insect farming companies today who are building megafactories.
Instead, the end-to-end solution enables customers to construct "fattening systems" — modular insect farms onsite at their own facilities.
Customers are sent weekly shipments of seed larvae that are fattened onsite using regional waste materials, such as peels or harvest residues. After a week, the larvae will grow by over 250 times their body weight.
This circular system produces high-quality, protein-rich feed, produced directly on the farm at a lower cost, with lower CO2 emissions, and independent of global supply chains. 
Additionally, the larvae fattening system produces compost as a by-product, which can be sold as high-quality fertiliser or used for biogas production.
Overall, FarmInsect allows farmers to reach feed cost savings of up to 30%.
Each step in the process is monitored by a proprietary software platform that guides the customer through production step by step.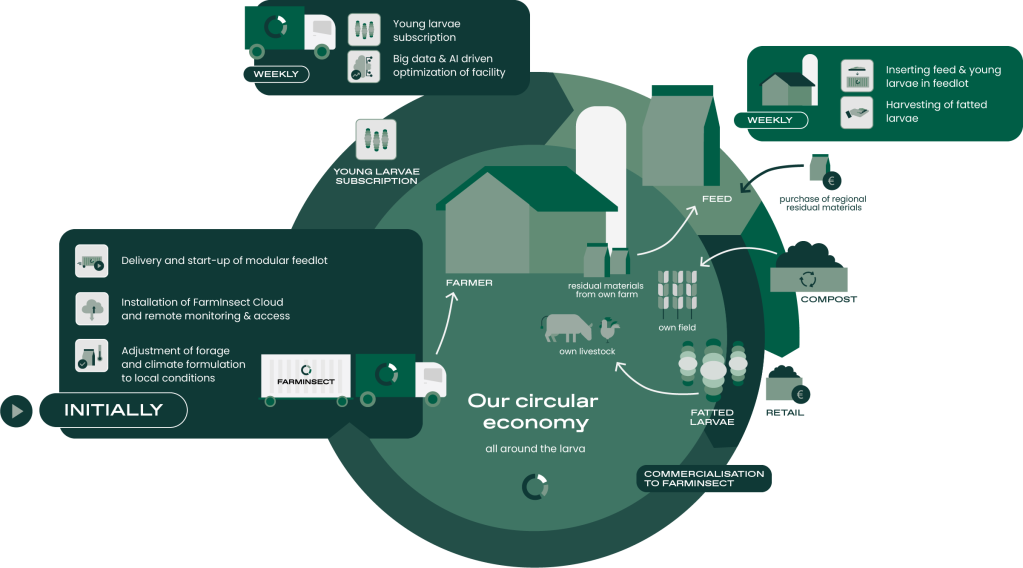 €8 million raised for commercial scale-up
The successful Series A financing round, which recently closed oversubscribed, raising a total of €8 million (A$13.29 million) will be used by FarmInsect to commercially scale its insect farming technology.
The round was led by Sandwater, a climate-tech venture capital firm based in Oslo, with participation from Minderoo, plus Bayern Kapital, and the EIC fund, with additional participation from existing investors HTGF and UnternehmerTUM.
Cronje Wolvaardt, Minderoo Director of Impact Investing, was impressed with a number of aspects of the business and noted that the investment in FarmInsect aligns with Minderoo's goal to protect and restore ocean ecosystems, including by reducing pressure on wild caught fisheries.
He said, "We were impressed by FarmInsect's founders as well as its low capex, and decentralised business model which has the ability to ramp up significant insect production in a sustainable way, providing the ability to deliver a scalable alternative source of protein to fishmeal."
This fits the Minderoo Foundation's objective of taking on "tough, persistent issues with the potential to drive massive change," and seeks effective, scalable solutions.
Funding to support commercial scale-up
FarmInsect intends to use the new financing to support the commercial scale-up of its insect farming solution and to fund more R&D to further improve its technology.
"We are very grateful for the trust that our investors have placed in us. Together we will pursue our ambitious goal to make insects the go-to protein source ahead of soy and fishmeal in the EU," said Thomas Kuehn, founder and CEO of FarmInsect.
"In this next stage, we plan to intensify our R&D activities in order to decisively expand and further improve the current breeding lines."
Monika Steger, Managing Director of Bayern Kapital, said that the one thing that is clear, even when the group first invested in FarmInsect two years ago, is that "insect-based feed is a key part of the puzzle for sustainable and future-proof agriculture".
"FarmInsect's experienced team developed the company in a very positive way, installed the first customer systems and opened a new production site. We are highly satisfied with the collaboration to date and see a lot of potential for the future," she said.
From the customer
Pioneering German fish farmer, Alfred Stier, has always relied on smart innovations in his business. His latest optimisation involves incorporating FarmInsect's technology.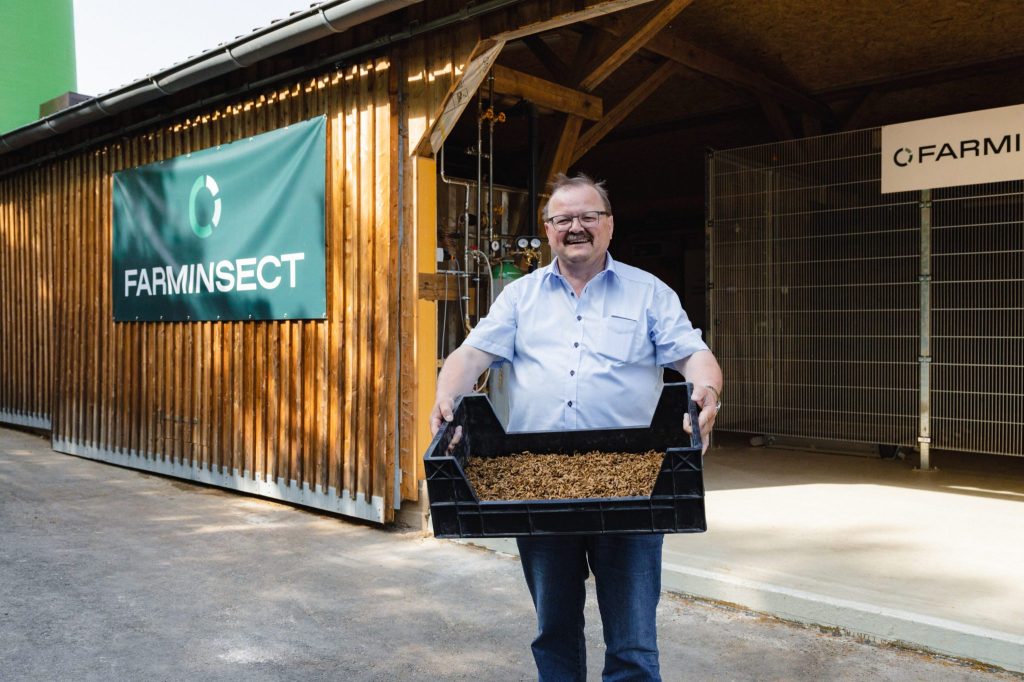 "Admittedly, investing in the FarmInsect fattening system took a little courage at first. But today I am more than happy to have had the courage!
"Producing my own feed here on site is great, cost-saving and sustainable! And the FarmInsect team is always there when I need them.
"My fish quickly got used to the insect larvae – and they are thriving! Conclusion: I'm a bit proud of my system and my courage. The decision to buy has completely paid off."
You can find more about FarmInsect here: farminsect.eu/en/
And visit minderoo.org for more on the Minderoo Foundation.