Climate tech has been on a tear in past years, but in 2022 total investment into startups focussed on climate solutions was down by 3%.
This is according to Climate Tech VC (CTVC), a US-based research and insights organisation that has its finger on the pulse of climate tech investing.
While the total invested funds have pulled-back slightly, deal activity has grown. There were around 1,000 venture and growth stage deals last year, which is a 40% increase on 2021.
We've explored the local climate tech sector at length, covering funds like Investible and intermediaries like Raaise, but it's useful to explore a global dataset like that offered by CTVC.
Their definition of 'climate tech' covers 7 verticals: Energy, Food & Land USe, Transportation, Built Environment, Carbon, Climate Management, and Industrial.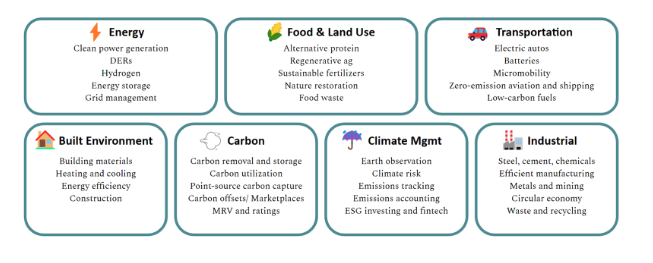 The report highlights the share of the most in demand sectors, suggesting they may be oversaturated: alternative proteins (8%), EV charging (5%), batteries (4%), and emissions & sustainability reporting (4%).
These sectors, and the companies they cover, have a diverse set of fundamentals, and it's inevitable that some are going to attract more interest, and higher ticket deals, than others.
"Mega deals in just 5 capital-intensive sectors including autos, batteries, alternative proteins, nuclear, and EV charging made up 40% of total funding over the last three years." the report says.
Early Stage Gains Wiped-Out by Growth Pullback
The pullback in total funding can be attributed entirely to a $5.2 billion loss by growth stage investors.
This is linked to the broader market slowdown that saw heavy losses on public markets, particularly in the tech sector that is weighted heavily by ESG funds.
In all other earlier climate tech stages (Seed, A, B & C) companies reported increases in investment activity.
Positive news for the sector is made clear when we view the number of deals. As the diagram below shows, the deal count grew in every quarter in 2022.